About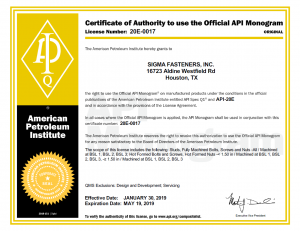 Sigma Fasteners provides quality bolting and coating for the energy industry.
Sigma is a manufacturer and distributor of ASTM bolting specified by the American Petroleum Institute. Sigma holds American Petroleum Institute Monogram Licenses API 20E-0017 and API 20F-0007 to manufacture API 20E & API 20F bolting
API 20E BSL 1, BSL 2, BSL 3
API 20F BSL 2, BSL 3
Sigma Fasteners is certified API Spec Q1, 9th edition and is ISO 9001:2015 certified.
Sigma distributes standard bolting and manufactures custom bolts to customer specifications and per print following careful details of the latest revisions.  and are on the approved vendor list of major wellhead, valve, flow control manufacturers, energy and petrochemical companies worldwide.
Our coatings applications include:
Whitford Xylan™
SermaGard® Ceramic Metallic
Everlube Molybdenum 
Thermal Cured Epoxy
MacDermid Chloride Zinc electroplating and trivalent chromate
Zinc Nickel electroplating
We promise rapid and knowledgeable response and service. Please contact us with your requirements today. Please feel free to use the "Get Quote" form or  to "Contact" form above right to send  Sigma your custom bolting or standard fastener requirements.
Toll Free: (866) 378-3044
Phone: (281) 214-8800
Fax: (281) 214-8801